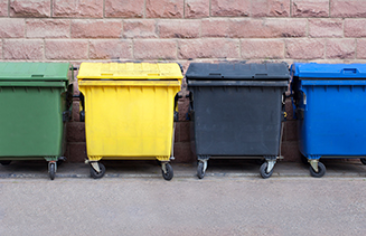 The things we throw out have a large impact on our health and the health of the environment. All of the items we put in our waste bins are either sent to a landfill or incinerated, and both processes can pollute our air and water. We can reduce this impact by reducing the total amount of waste we generate, and by making sure that the waste we do generate is separated so that some of the waste can be reused or recycled.
Progress Toward Waste Reduction
Achieving Our Waste Reduction Goals
With 2008 as a baseline, our goal is to reduce trash 80% by 2050. By recycling and composting, we've made significant gains.
Progress Toward Waste Reduction
Aligning with State Goals
The Massachusetts Department of Environmental Protection's 2010-2020 Solid Waste Master Plan calls for reducing residential trash 30% by 2020 and 80% by 2050 from a 2008 baseline. Cambridge has adopted these goals.
The amount of trash collected each year in Cambridge declined by 30% between 2008 and 2019, but increased by 15% in 2020, just falling short of our 2020 goal. In 2021, we saw some progress made to get back to meeting our 2020 goal. More work is needed to ensure we get back on track to meet our 2030 and 2050 goals.
Much of the waste generated in Cambridge households can be diverted from the waste stream, and instead be recycled or composted.
Here we see a decline over time in the pounds of trash collected per household per week with an increase to about 16.5 pounds per household per week in 2021. This tells us that City services and educational campaigns were successful in creating a shift in behavior, but as you can see in 2020 the COVID-19 pandemic has led to new challenges related to waste generation.


What's in Cambridge's Trash?
This pie chart gives us an excellent breakdown of what we threw away in Cambridge in 2019 and the opportunity we have to reduce the amount of material going to our landfill and incinerators. As we can see, 54% of everything we put in our waste bins is actually trash. The other 46% can be recycled or composted. Check out the How You Can Help section below to learn more.
Get Rid of It Right - By Composting!
Compost and Recycle Right
Composting and recycling help to minimize the amount of trash that goes to incinerator/landfill, reduce greenhouse gas emissions, and yield useful products.
---
Citywide curbside compost launched April 2, 2018 to all 1-12 unit buildings. If you live in a larger building, please consider using one of the three free drop-off sites for composting.
Use the new Get Rid of it Right tool to look up if you can divert your unwanted stuff.