Buildings
Buildings and energy industries in Cambridge consume more than half of all energy used in the community and contribute 82% of Cambridge's total GHG emissions, so we need a clear plan for reducing emissions from buildings. Our Net Zero Action Plan outlines polices and programs that influence the two biggest factors in a building's carbon footprint: how much energy that building uses, and where that energy comes from in the first place.
Buildings are Key to Climate Action
Residential and commercial/institutional buildings are the largest contributors to the City of Cambridges total emissions profile, contributing about 20% and 37%, respectively, of all greenhouse gas (GHG) emissions. Combined with activities from industrial and manufacturing (12% of total emissions) and energy industries (13% of total emissions) the building sector is responsible for 82% of emissions in the community.
There are several key ways to reduce emissions from buildings, as the graphic here illustrates. We must use less energy by investing in energy efficiency (Reduce), use cleaner energy by replacing fossil fuel-based appliances and building systems with electric versions (Replace), and ensure that all our electricity is generated with renewable, zero emissions sources like solar and wind (Renewables).
Cambridge's Net Zero Action Plan (NZAP) uses these three strategies to drive emissions down. Action Areas 1 and 2 focus on Reducing and Replacing, while Action Area 3 focuses on Renewables. Action Area 4 supports all actions by securing funding and capacity for implementation. You can learn more about these action areas on the NZAP tab of this dashboard.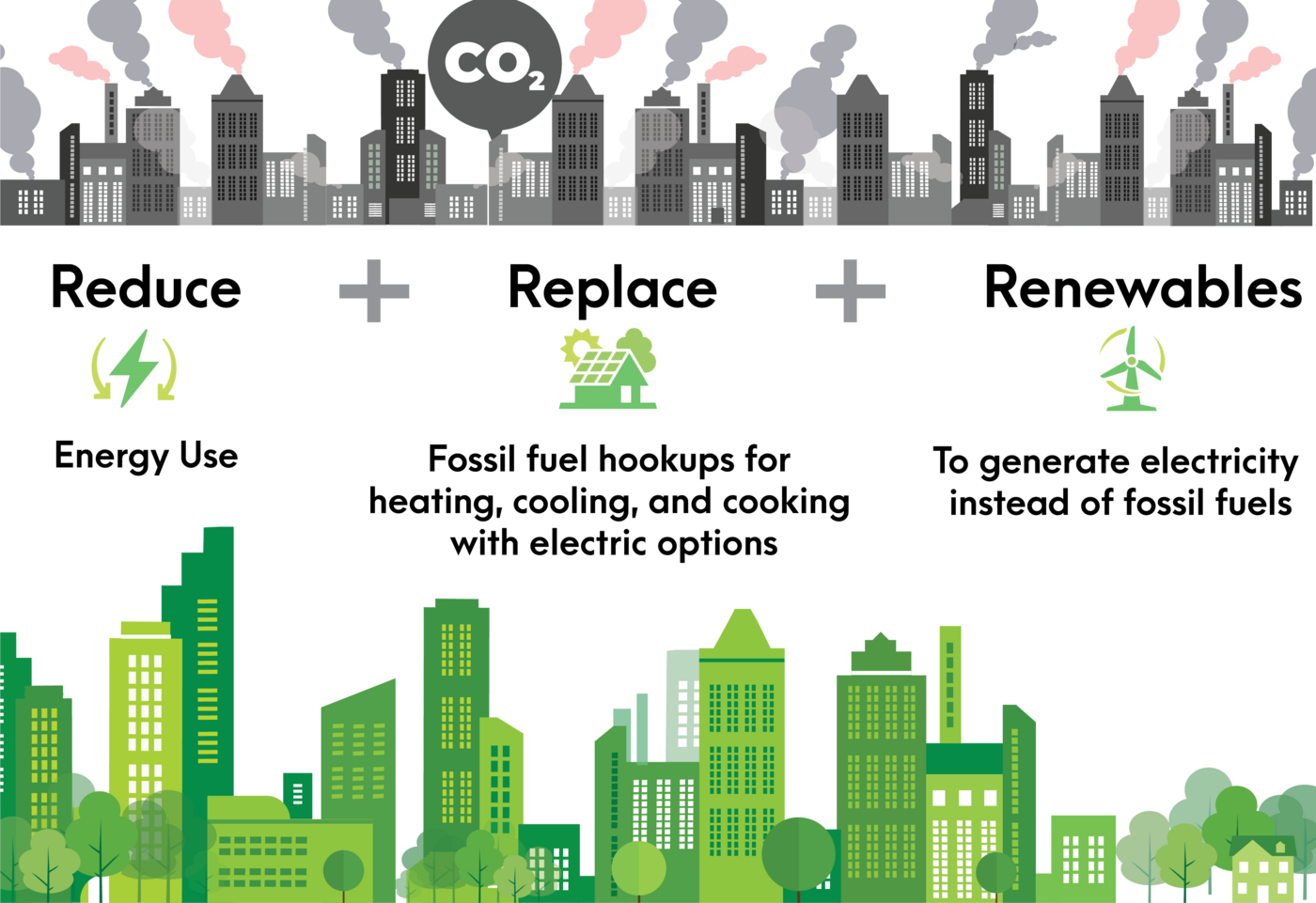 Buildings are Key to Climate Action
Residents, universities, businesses and the City are collaborating to reduce energy use in buildings and increase access to renewable energy. Cambridge has set a "net zero" target for all buildings in the community, and has created a "Net Zero Action Plan" to outline strategies to help each building reach the net zero emissions goal.
Opportunities in Municipal Buildings
City-owned buildings are responsible for 72% of the energy used for all City activities. They also create 69% of the GHG emissions. While municipal buildings are not the largest emitters or energy users in the City they still have an impact on the overall community's carbon footprint. Through the Net Zero Action Plan, Cambridge has set a goal for municipal buildings to be net zero which our buildings can then serve as a model for others. Since the tools to reduce emissions and impacts are very similar!
Cambridge uses all the strategies of the NZAP in its own buildings, not only to cut carbon emissions and save taxpayer dollars, but also to show other building owners how to use the opportunities and comply with the requirements of the NZAP.
City Buildings are Targeting Net Zero
Cambridge is reducing its energy use intensity, but there's more to do to reach Net Zero in buildings. City programs are in place to improve existing municipal buildings and make new buildings perform at the highest levels. Several existing buildings underwent major renovations between 2015-2019, with significant carbon and cost savings. And in 2020, the City adopted Net Zero requirements for all new municipal buildings.
King Open School and Taylor Square Firehouse were completed with these new requirements, and Tobin Montessori and Vasal Lane Upper School will also be net zero.
Get Your Home or Building on the Net Zero Path
Sign your building up for one of Cambridge Energy Alliance's programs. The Energy Alliance offers
Virtual energy assessments for renters, landlords, and homeowners
Energy assessments for small businesses and non-profits
Financial help for energy bills and energy improvements for low-income residents
Support with heat pumps, solar hot water, and solar PV, too!
Check out MassSave for many more money-saving opportunities for residents, landlords, and business owners.
---
Get Support for Efficiency in Your Home or Business
Find Cost-Saving Energy Programs
The City of Cambridge is partnering with BlocPower on a new, one-year pilot to help multifamily buildings complete upgrades that can improve indoor comfort and energy efficiency, while working towards our climate goals.