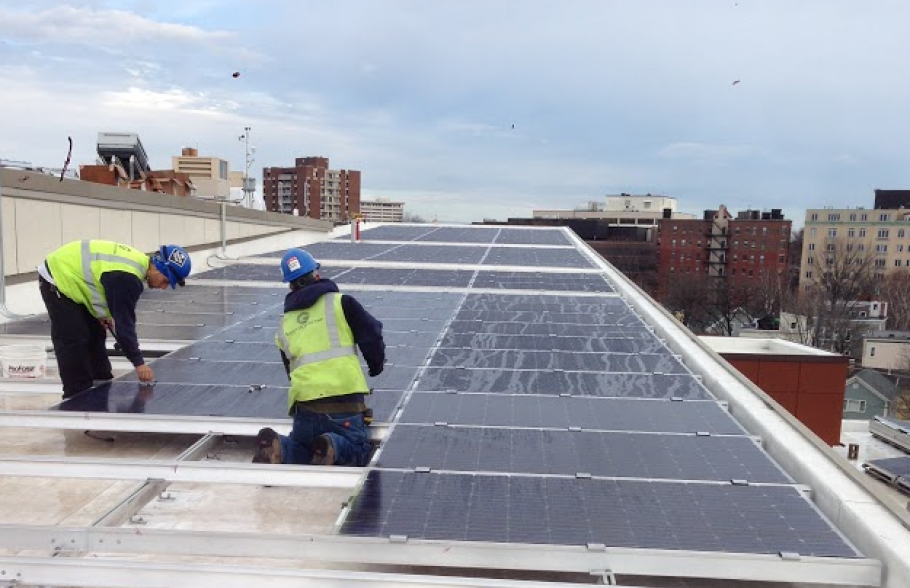 Energy
Energy is a critical resource that we rely on to go about our daily activities. Unfortunately, our energy use and energy supply is currently unsustainable and causes climate change and environmental degradation. Innovations that allow us to use energy more efficiently and switch to cleaner, renewable fuel sources that can be stored will drastically improve the sustainability of our energy systems.
This page addresses community energy use from our homes, offices, and travel. It also addresses municipal energy use, which includes City-owned facilities, schools, and streets, as well as activities like water and wastewater pumping and solid waste pick-up.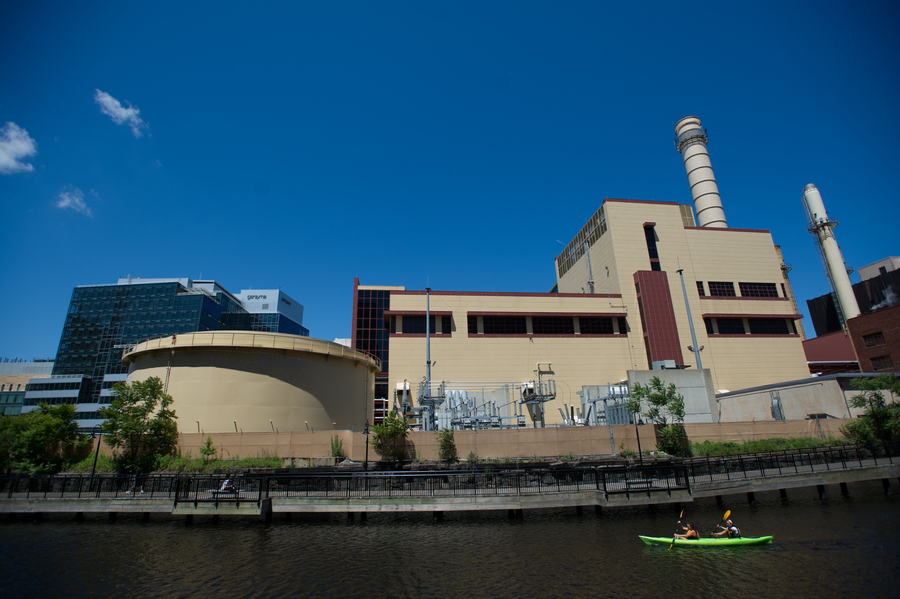 In 2012, community energy use was approximately 13,000,000 MMBTU.
Fuels That Supply Our Cambridge Community
Most of the fuel we use in our community is natural gas. Increasing the portion of our fuel that is renewable energy will help reduce the negative impacts of burning fossil fuels.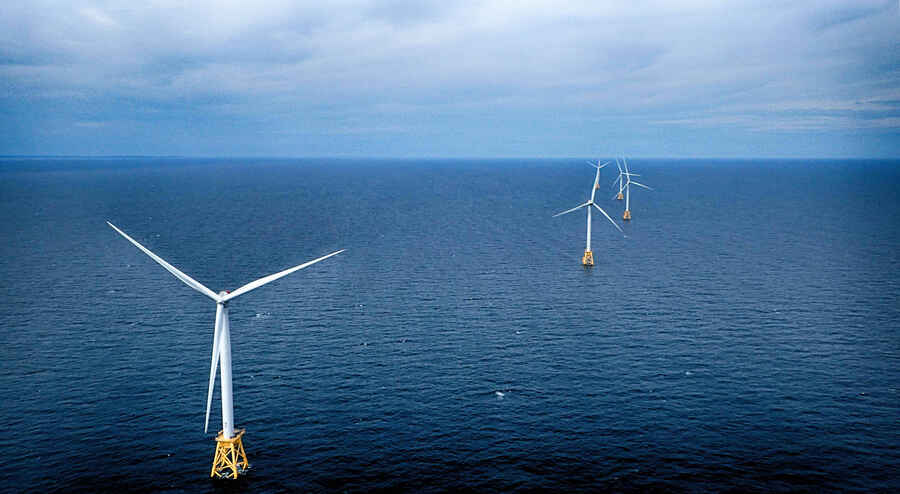 Cambridge Community Electricity Program
The Cambridge Community Electricity program allows residents and businesses to support new local renewable energy projects. Over 70% of Eversource customers already participate. Even better, the number of customers choosing the 100% Green Plus option grew by more than 50% in 2019 and doubled in 2020!

Are you signed up?
Cambridge Energy Consumption by Sector
It's not surprising that our community's commercial, industrial and energy industries use the most fuel. What is interesting is that the energy we use to get from place to place is lower than what we use to operate our homes.
Municipal Energy Use by Sector, 2008-2019
Municipal energy use measures the energy use reductions from all municipal operations including heating schools and City-owned facilities, lighting the streets, pumping water, and driving trash trucks to pick up waste.
We look at energy use by sector to determine how much energy is used in each type of operation so that we can identify opportunities for reductions. In Cambridge, like in many other cities, buildings use the majority of our overall energy consumption. The City's efforts to reduce energy use from all sectors saves money and minimizes our impact on the environment.
Change in Cambridge Fuel Sources, 2008-2018
This graph shows how Cambridge has changed the fuel it uses to power our City since 2008. We have reduced our consumption of oil by 92%. Oil emits a lot of GHGs when burned, so this has reduced our emissions. Solar energy generated on the rooftops of our buildings has increased significantly, but remains a small portion of our energy supply overall.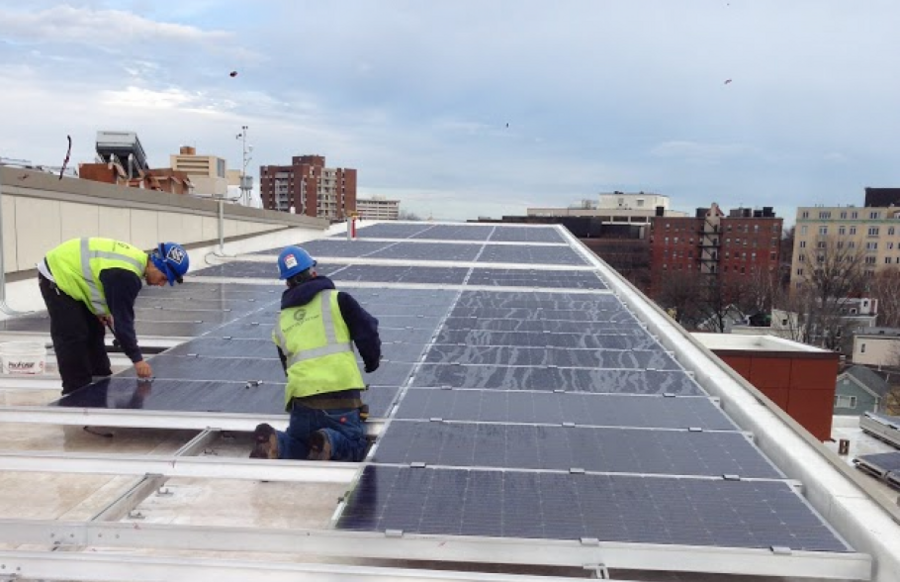 Decreasing Energy Use & Emissions
Between 2008 and 2019, the City reduced its energy use by 17%, but the GHG emissions from energy use went down by 36%.
In addition to reducing energy use, we also switched the kind of energy we use, which reduces emissions from energy even more. For example, several municipal buildings were rebuilt to use less energy, which reduced GHG emissions. But they also had solar installed on the roof, which produces electricity with zero GHG emissions.
How is the City Reducing Energy Use?
The City's efforts to reduce energy use from all sectors save money and minimize our impact on the environment. Efforts include: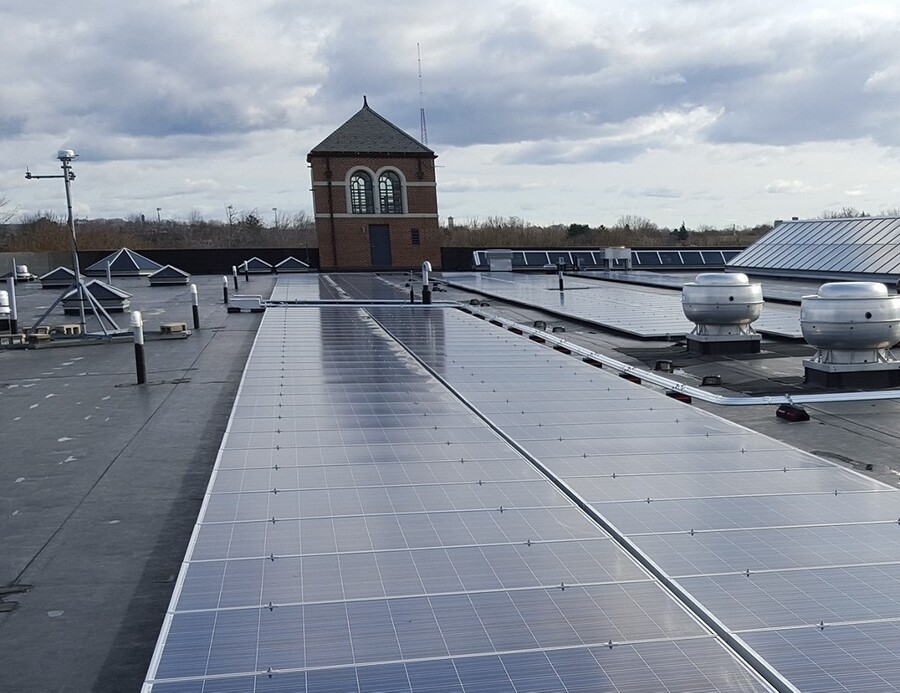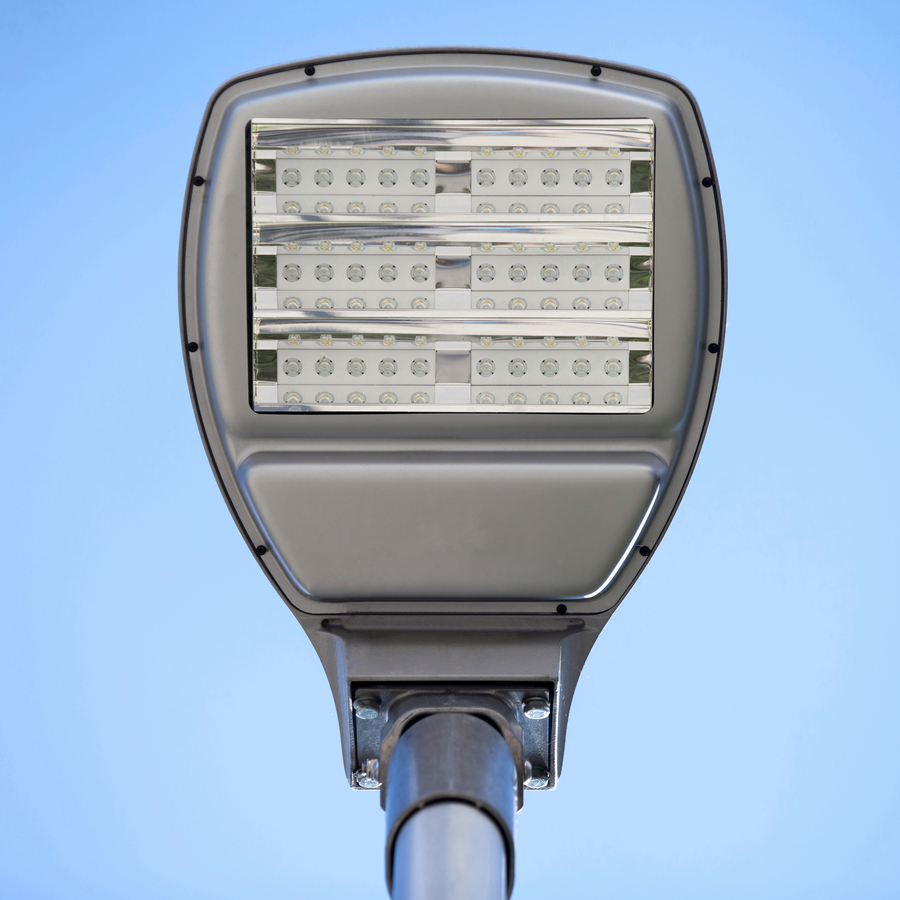 Did You Know?
The City converted 6,578 streetlights to LED bulbs and introduced a remotely controlled, automatic dimming schedule. This reduces the electricity used in street lighting by 80%.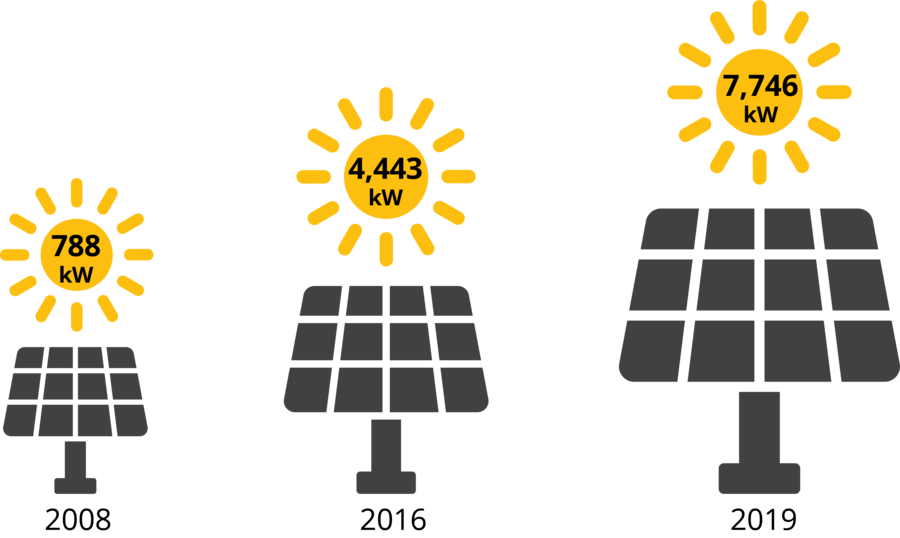 The publicly and privately-owned solar panels throughout Cambridge generate pollution-free electricity using a source that is in endless supply - the sun. Here we are looking at solar electricity generation capacity, which is the maximum amount of electrical power that could be produced by all of the solar panels in Cambridge under perfect conditions. Solar is growing in Cambridge and there is still a lot of untapped potential.
Untapped Potential on Multi-family Buildings
The Cambridge Energy Alliance's Solar Advisor assessed 64 properties and identified an opportunity to add 1.2 MW of solar panels. If all these projects were developed, it would increase the total community-wide solar capacity by 15% and serve 1,670 apartment units.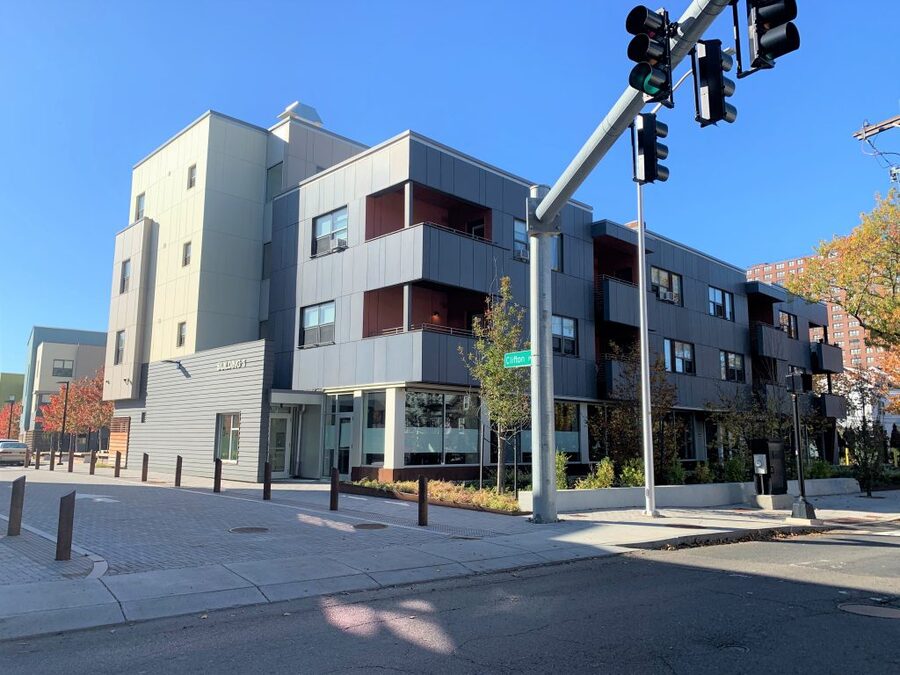 Cambridge has installed a total of 2,520 kW in solar energy capacity at city facilities. These solar panels produce enough power to drive an electric car 7.7 million miles each year!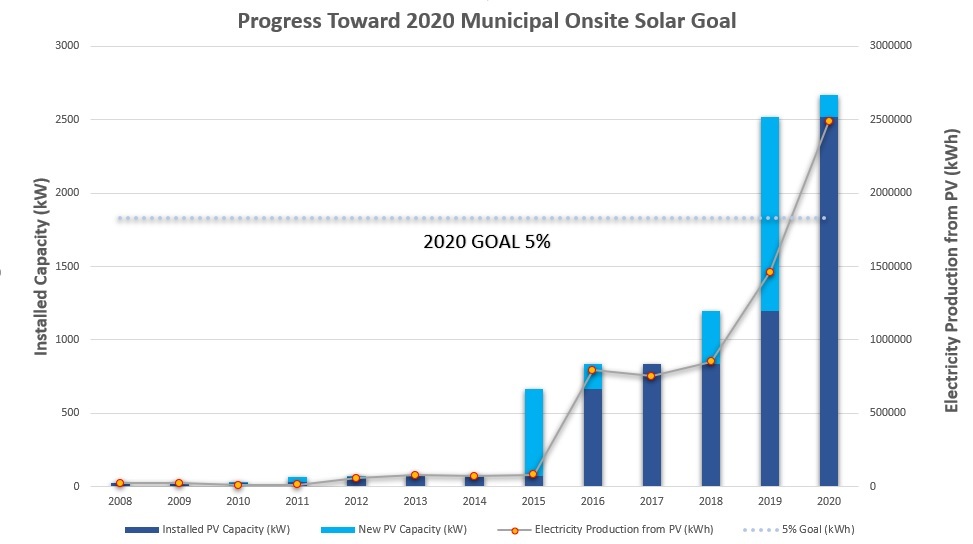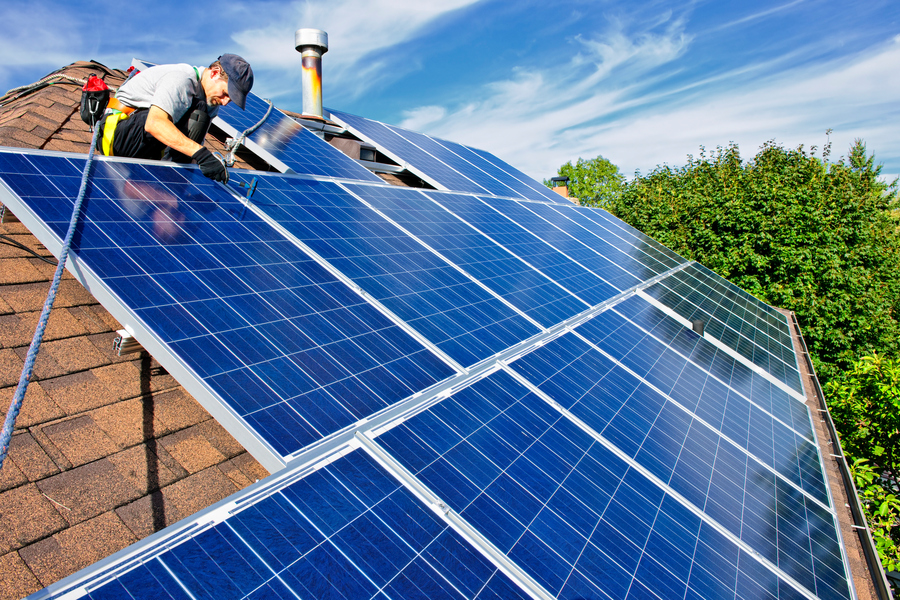 Did You Know?
As of the end of 2019, there were more than 700 public and private installations throughout Cambridge.
1 MW of solar energy can power 164 homes!
Reduce Energy Use in Your Own Home
There are a lot of opportunities to reduce energy use in your own home, such as switching to LED lights, adding insulation, and buying an Energy Star water heater.
---
Mass Save has a lot of information on energy efficiency.
Check out this Video to learn more about residential energy efficiency.